Erasmus Exhibition
Housing in São Lázaro street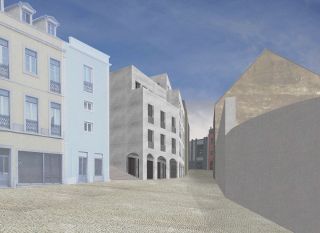 Annotation
The project was divided into three phases. During the first two phases we worked in groups on analysis and urban proposals. For the third phase we worked on architectural proposals on urban voids in Almirante Reis Avenue. I was attracted by a beautiful spot in São Lázaro street near Martim Moniz square. I have decided to build a new house on the site where was a building in the past. I followed its previous shape. To me it was a perfect spot for housing because it was located in a quite intimate street but in the city center at the same time. Also, when you look from the new apartment windows you can see the São Jorge Castle.
my key experience from erasmus
I was lucky to spent my stay abroad before corona crisis. Studying in an international team allowed me to perceive completely different views not only of architecture than we are used to at our faculty. I consider useful frequent work in groups. I was also very influenced by the great helpfulness and open minds of the local teachers. My stay abroad helped me to get to know not only other approaches to architecture, but also myself.
University name
University of Lisbon
Supervisor's name
Cristina Cavaco
semester
Winter semester 2019
Year
4