Erasmus Exhibition
Student residence Porto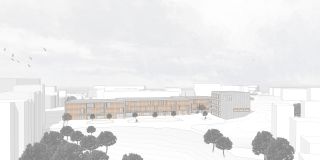 Annotation
The project I worked on in Portugal during the academic year 2019/2020 complements student accommodation capacity along with associated functions in the city of Porto. The student residence was processed by continuous designing from the scale of urbanism to the detail of the student room and the progress of the work was checked by numerous physical models, as is customary for the Faculdade de Arquitectura, University of Porto.
my key experience from erasmus
As my key experience, I have to take a trip abroad as a whole composed of many small experiences and life knowledge. I think that those of the next Erasmus+ participants or others should consider staying in a foreign country for the whole academic year and not just one semester.
I've been abroad all year and I wouldn't change it. Nowadays, almost everyone travels and it's a good thing. But in order to get to know the foreign culture well enough and to be able fully draw on this knowledge in life, in practice, in comparing cultures, a year is minimum in my opinion.
Erasmus communities work very well and provide you with a lot of experience, get to know the local folklore, enjoy the party, and meet students from all over the world. However, they are organized on the semester perception of Erasmus. But the whole year will allow you to become a member of the local society and not only a foreign student. The year will also give you more motivation to learn the local language (in non-English speaking countries). After half a year, I would not dare say that I know the mentality of the Portuguese, now I do.
University name
Faculdade de Arquitectura, Universidade do Porto
Supervisor's name
Joao Paulo Loureiro
semester
Winter semester 2019
Year
5