Erasmus Exhibition
The new Academy of Fine Arts in Ljubljana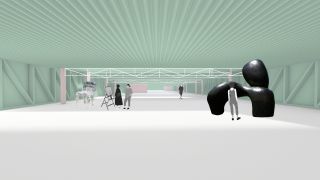 Annotation
A new proposal of the new Academy of the Fine Arts for ALUO in Ljubljana. On the base of many references of the Academies and exhibition spaces from all over the world, three main cathegories of these spaces were made. A "palace"- palacy closed forms of buildings from the past. A "factory"- opposite typology, mainly opened spaces, conversions of an old factories. And "anarchy"- a way of use of the space more then a typology itself. Every cathegory is very specific and this project is trying to answer the question: how to connect them together to create a brand new typology of the Academy of the future.
my key experience from erasmus
The best part of my Erasmus experience was the opportunity to go abroad, be able to try different approach to architecture design and communicate with foreign students in English.
University name
University of Ljubljana, Faculty of Architecture
Supervisor's name
prof. Jurij Sadar, univ.dipl.inž.arh.
semester
Winter semester 2019
Year
5