Erasmus Exhibition
Torino: Porta Nova - Pastrengo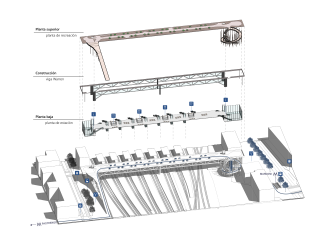 Annotation
The task of this project was to design, how to change the public space in surroundings of the new station Pastrengo of metro line 2 in Torino, Italy. Our design was to create tangetial connection between two buildings of universities, two metro stations and southern part of the main railroad station of Torino. Our proposal consists of many partial street reconstructions including new pedestrian zones and complex change of car traffic regime and construction of new southern vestibule of the train station in the form of a bridge.
my key experience from erasmus
My crucial experience from Barcelona can be summarized in two people. Antonio Moro and Josep Goméz. Antonio, professor with outstanding experience of urban designer in Barcelona and with deep passion for central-European medieval towns. Thanks to his lessons we were able to understand urban principles of Barcelona more than in any other course.
While Josep Goméz, by the way member of the committee for completion of Sagrada Familia, helped us to get through that cheap marketing of Gaudí's architecture and really understand the basic principles of his work with form and space.
University name
ETSAV UPC
Supervisor's name
Carlos Llop i Torné
semester
Summer semester 2019
Year
4