Erasmus Exhibition
The Temple of Sound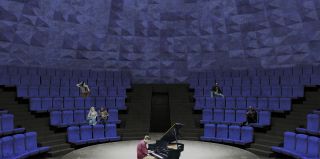 Annotation
The site is a park near a busy intersection of Deichtorplatz in Hamburg, a centre of globalization in Europe. It is an experimental music space in the form of a temple of humanity: a place for extra-ordinary transcendental immersive experiences, that effect people's consciousness and may result in the coming-together of all visitors and reconnecting with group consciousness of the individuals. The auditorium is equipped with telescopic acoustic ceiling, that can shift the reverberation time of sound and provide a new kind of sensory experience – a sudden change in the conceptualization of space in the human mind. The aim of the design of the building and the landscaping surrounding it, is to provide a quiet place of introspection and tranquillity in the middle of a busy urban district.
my key experience from erasmus
It happened when me and a group of fellow international students went to a house party in Den Haag. I was not sure why I went there, but in my boredom, I noticed a book in the library of the person who was organizing the party. This book was called The Heart of Buddha's Teachings and it was written by Thich Nhat Hanh. I read through a couple of pages and knew right away, that this was the reason why I was meant to come to the party that night. The book was then lent to me and guided me to the practice of Buddhism. This dramatically changed my entire life. Was it not for studying abroad and the isolation from the comfort zone of my home, this would have probably never happened.
University name
TU Delft
Supervisor's name
Steven Steenbruggen, Cécile Calis, Alper Alkan
semester
Winter semester 2019
Year
4