News
Our students and teachers are competing for the Czech Architecture Award
29/6/2021
The Jenga shelter, designed and built by students of the Seho–Světlík studio, has been nominated for the Czech Architecture Award. It was selected from among 30 shortlisted buildings by an international jury and the winner will be announced on 11 November at the Forum Karlín. Four buildings by FA teachers are also competing for the prize.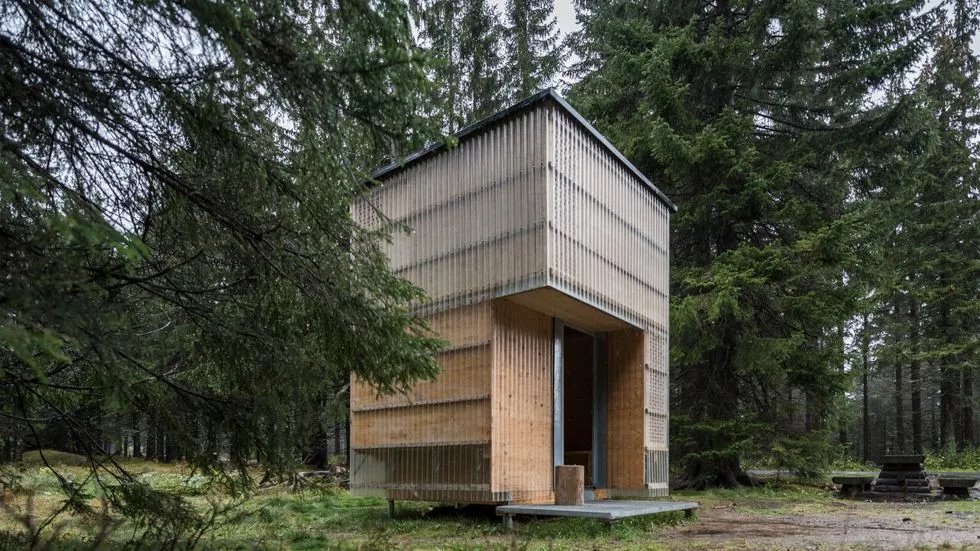 The shelter is located in the Krkonoše National Park near the busy crossroads in Sedlo pod Dvoračkami, where it is primarily intended to survive bad weather. In case of emergency, up to seven people can sleep in. The construction was part of a cooperation project between the Department of Architectural Design II of the FA CTU and the Krkonoše National Park Administration, which resulted in a total of six shelters, all of which are being used by visitors to the Krkonoše Mountains from autumn 2020.
A team of students under the pedagogical guidance of Hana Seho and Jan Světlík worked on the project: Jakub Daniel (author of the concept), Jana Fišarová, Daniela Lukáčová, Zuzana Malá, Andrea Nováková, Hana Nováková and Kateřina Vrbová. Design and construction took place in the winter semester 2018/2019, installation in the Krkonoše Mountains in 2020.
The idea was to create a shelter that would be simple and mass-producible, easy to assemble and could be placed in locations with different terrain morphologies. Jenga is designed as a jigsaw so that the individual parts can be assembled in the sheltered environment of the joinery workshop and easily transported to the site. The main part of the structure is made up of seven identical modules, boxes of CLT panels, which also form the interior. The dimensions are chosen so that one can sit and lie comfortably inside.
The Czech Architecture Award is a competition showcase announced by the Czech Chamber of Architects. The competition showcase is open to individuals or offices with projects completed in the Czech Republic in the last five years. Registration for the competition is free of charge.
The nominations for the 6th Czech Architecture Award were decided by an international jury composed of
Yasha Jacob Grobman – chairman of the jury (Faculty of Architecture and Town Planning, Technion, Haifa, Israel), Bart Brands (Karres en Brands, Netherlands), Eduardo Cadaval (Cadaval & Solà-Morales, Mexico/Spain), Irakli Eristavi (zerozero, Slovakia), Antonio Longo (Ubi studio, Italy), Balázs Marián (gereben marian architects, Hungary), Peter Veenstra (LOLA Landscape Architects, Netherlands).
Among the nominees are four buildings designed by teachers working at the FA, the revitalization of Kostnice Square (Radmila Fingerová and Hana Špalková), the crematorium for animals Eternal Hunting Grounds (Petr Hájek ARCHITEKTI), the reconstruction of a family house in Prokopské údolí (Hana Seho, R.U.A.) and the Modřice city hall (Vojtěch Sosna, atelier bod architekti).
Detailed information about all nominations can be found on the competition website.