News
They designed, they packaged, they won. Achievements of our students in Model Young Package
25/10/2022
Je možné navrhnout obal, který promění jídlo v ještě větší zážitek? Výzvy 26. ročníku největší soutěže obalového designu se chopilo 284 účastníků z 18 zemí. Cenu předsedy poroty získala Tereza Cvrčková a do TOP 25 se probojovaly Lucie Hegerová a Eva Procházková.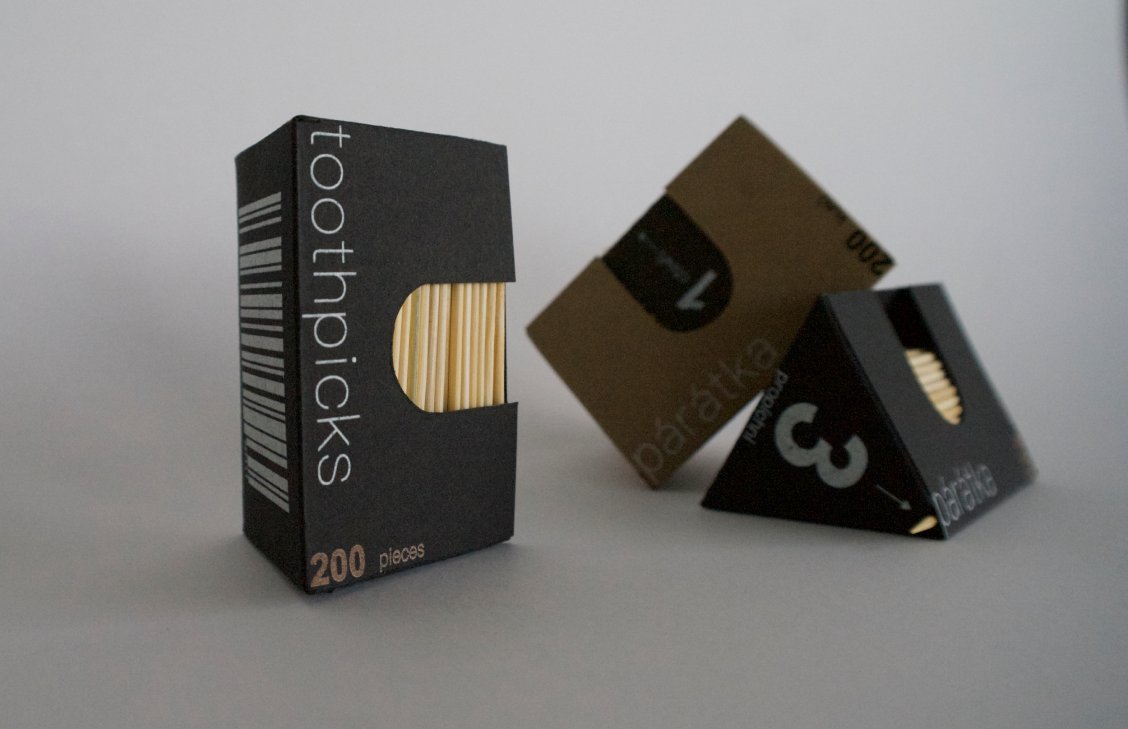 We come into contact with them several times a day and their dysfunction can be a real pain. This year, the designers were faced with the challenge of elevating the ordinary food packaging to the level of a product that can appeal to emotions. All this while maintaining its primary function of protecting the contents and focusing on quality craftsmanship, planet-friendliness and practicality. The entries were evaluated by a jury that included designers Jan Činčera and Jiří Pelc and LEGO Group packaging manager Joen Svensson.
The paper toothpick box by Tereza Cvrčková from the Bébarová-Nezpěváková studio facilitates handling, ensures hygiene during use and has variable use. By removing the toothpicks by their central part, the user does not touch the tips, which are not exposed to dust or other dirt. Another improvement is the method of removing the toothpick from the packaging through a hole in the corner. This makes it easy to retrieve even the last piece in a fraction of the time.
Lucie Hegerová from the same studio designed a wine bottle cover made from shipping boxes, which thus got a second life in an unusual form. It consists of cardboard rings cut with a laser, which, when glued together, form a tube into which the wine bottle is inserted. Thanks to the internal structure of the cardboard and the position of the individual rings, a winding spiral is formed along the entire length of the tube. The two halves of the tube are attached to each other by a perforated paper label on which the manufacturer can place his logo.

Eva Procházková from the Jaroš-Aslan studio entered a design for a paper bowl for potato chips. A typical snack at celebrations. A simple bowl is added to the classic packaging, which folds up in a single movement, holds the contents of the bag and allows everyone in the group to scoop.
Since 1996, the Model Young Package competition has been recognizing designers and design students for imaginative, innovative and sustainable packaging solutions that are applicable in practice. Students from the FA have also succeeded in previous editions – in 2020, Bianka Hudáková and Kryštof Bouřil were among the top 50, and in 2018 Petr Matoušů won the Special Jury Chairman's Award.