Erasmus Exhibition
Berlin - working on the shore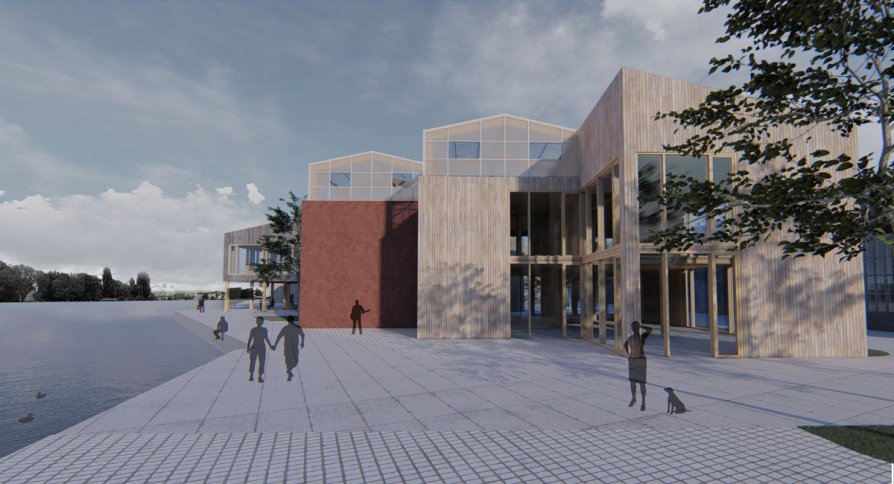 Annotation
This project has been designed as an extension for existing areal of Berlin Hallen on the shore of river Spree. These days, a new cultural center is being established here for this part of the city. They are turning the former industrial area by the river into the living city district. My new design complements the area with a big multifunctional comunity building. The new volume is designed so as not to completely separate the old hall from the river. That is why I am creating two public passagesthrough the new building and designing a structure which provides articulated publicspace in between the volumes. I wanted to keep public area around the whole new building and create a small "work-village" for creative designers and artists, where they can share their ideas and knowledge.
my key experience from erasmus
My experience from abroad was strongly influenced by the corona crisis. I spent in Austria only one month and this month had been only for my language preparations before the semester started, that is why I have absolutely no experience with their on-site lectures and courses. I took the whole semester online. But everything regarding communication with the Graz university and foreign students I evaluate very positively. They were very supportive in this unusual and complicated situation and helped us with everything necessary. The welcome events which I took personally in Graz were well prepared and the start of the semester as well. In any case after one month in Graz I can say that it is an amazing city full of student life and bicycles and I am so sorry, that I couldn't have spent more time there.
University name
Technische Universität Graz
Supervisor's name
Dipl.-Des. BDA Univ.-Prof. Wolfgang Tom Kaden, Dipl.-Ing. Stephan Brugger
semester
Summer semester 2020
Year
4