News
We have launched a new system for submitting studio projects in the gallery on the website
7/1/2021
We have launched a new system for submitting studio projects in the gallery on the FA website, where an online exhibition of projects from the winter semester of the academic year 2020/2021 will appear from Monday 11 January. To insert work, you must first log in with an account used, for example, to enter KOS. The work submitted shall be approved and published directly by the head of the studio or assistant professor. He / she can return it to the student for rework.
The new submitting system also allows the student to do additional editing of an already embedded project, allowing his teacher to do so. Click on the lock icon to restrict the audience for the inserted documents (see image). Such a document will only be displayed to subscribers. We recommend doing this for PDF files that present the full project and attaching sufficient images or photos in separate attachments.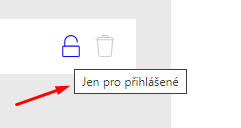 The complete exhibition of nearly 1,000 student works of the winter semester will be visible to all those interested in the faculty's web site in the Gallery/Studio projects from Monday 11. 1. 2021. The orientation and search of specific projects will be made easier by using filters and keywords. Access to student work will also be possible directly through the studio pages on the FA website, where there is a tab for Studio Projects.
You can see the video guide for easier understanding (in Czech):
INSTRUCTIONS FOR STUDENTS
INSTRUCTIONS FOR TEACHERS
With regard to server load during submitting, especially just before the deadline, we ask for your patience and forbearance, and we advise students not to leave electronic submissions until the last minute. We remind you that both diplomas and bachelor's prjects continue to be submitted to KOS. However, they can also be placed in a gallery on the site.
We believe that this new feature will contribute to the faster publication of all work sent and will simplify administration. We would like to receive feedback from you while presenting all the benefits and current and planned updates of the virtual gallery, so we are planning a public presentation in February, at which you will be able to ask questions and give us suggestions for further improvements!
If necessary, contact: Kristýna Sedlaříková, kristyna.sedlarikova@fa.cvut.cz
If your studio or ZAN missing a studio assignment, you will find a tutorial on how to insert it on the faculty website here.