News
We had to find our way to him. Ladislav Lábus remembers the philosopher Petr Rezek
18/11/2022
On Tuesday, 8 November, Petr Rezek, who for several decades strongly influenced our environment and personalities in the field of philosophy, art and architecture, passed away at the age of 74. He called himself – a teacher of philosophy, not a philosopher. He was not only a teacher of philosophy and philosophers, but also of artists and architects and theorists of art and architecture, and he also devoted himself to music, especially opera.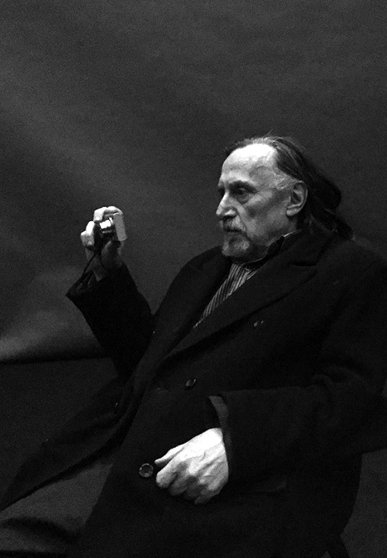 Along with the passing of Jiří Ševčík in April 2022, we have lost in one year two of the most influential personalities who have shaped the thinking of two generations of architects and artists since the 1970s, and in the case of Petr Rezek also philosophers. Although they were not in leading positions in universities or the academy, they nevertheless stimulated and determined the discourse on fundamental interdisciplinary topics.
He studied psychology, philosophy and aesthetics at the Faculty of Philosophy of Charles University. He was a disciple of philosopher Jan Patočka and was close to art historian Jindřich Chalupecký. During the normalisation period, except for a few years after graduation, when he worked as a clinical psychologist, he could not practice his profession, but only unskilled jobs. Nevertheless, he continued to work in his field. He conducted residential seminars, occasionally gave public lectures or lecture series, and published in samizdat or in the Jazz Section.
We had to find our way to him and his views and their thoughtful and impressive presentation. Those who look will find it. The effort to find, connecting his listeners, along with the thoughtful presentation of his views, had an almost cult-like influence and multiplied the power and importance of the message.
After 1989, he was finally able to teach and act as a teacher of phenomenology, philosophy and theory of art and architecture directly to students – at the Faculty of Philosophy of Charles University, the Academy of Fine Arts in Prague and especially at the Faculty of Art and Architecture of the Technical University in Liberec.
He approached his teaching with passion and honesty, sometimes with unrelenting sincerity, as he did everything he devoted himself to – his texts and concepts, translations and publishing of books and magazines, founding his own publishing house or working as a librarian at the Faculty of Art and Architecture in Liberec.
In 2009 he received the Tom Stoppard Prize for his book Architectonics and Protoarchitecture and in 2014 the F. X. Šalda Award for his book Slipping or Death, published by Ztichlá klika. He has long been appreciated by those who have listened and understood him with interest and enthusiasm. And they were lucky to have known him before he fell silent.
Ladislav Lábus