Diploma projects
Conceptual proposal of a renewal of Masaryk Square in Jihlava, proposal of a new group of houses called Krecl – Špalíček.
Architecture and Urbanism, MA diploma project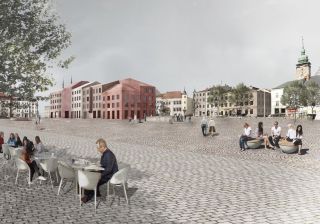 Annotation
The uniqueness of Masaryk Square is impressive in size and concentration of historical layers. Exception in the structure is a centrally located block – in the past the late Gothic group of buildings called Krecl - nowadays store Prior, the inappropriate and not working object. The subject of this diploma project is a design of a new group of houses. The main purpose is to increase an intensity of the cityscape in historical context of the city so that the square would not have to give up its function of the place of meetings, business, habitability and representation of the cultural level of Jihlava residents community.
Typ projektu
MA diploma project
semester
summer semester 2012
Study program
Architecture and Urbanism